Back
040414
University Medical Centre of Geneva (steps 5 and 6)
Local authorities
Types of mandate
Full mandate (SIA): preliminary project, project and execution
Dates
Final building permit: 2007 / 2010
Investment credit approval: May 2007 / 2011
Opening of the construction site: April 2009 / November 2011
Handover of buildings: November 2016
Technical
informations
CMU 5: 33,611 m2 of GFA, 140,800 m3 SIA
CMU 6: 21,290 m2 of GFA, 81,300 m3 SIA
Total: 54,901 m2 of GFA, 222,100 m3 SIA
Location
Geneva
Collaborators
S. Chambat, J.-B. Meyrier, P. Revillard,
V. Paclet, W. Marsura, A. Piazza, M. Delapierre,
P. Vaz, J. Debljovic, A. Belladon, G. Genecand
Simplicity serving a multifunctional complex
On seven basement levels and nine current floors, the allocations spread over several tens of thousands of square metres show the impressive heterogeneity of a complex site dedicated to teaching and advanced medical research.
The complex brings together (as a non-exhaustive and non-hierarchical list of functions) the French-speaking school of pharmacy, the university dental medicine clinic, numerous laboratories, areas dedicated to clinical development and investigation, interfaculty work spaces, a pet house and a simulation centre.
Despite its highly focused design and ubiquitous technology, the building's layout remains flexible, modular and reversible. This adaptability, which was requested at the design stage by the contractors and the Project Owner, is intended to simplify any future modifications.
The new CMU marks an important milestone in the history of the hospital district. It does so with as much strength as serenity as a measure of its successful integration, without trampling on the past and with an openness to future opportunities.

One of the challenges during the construction phase was to manage the nuisance caused by the work on the occupied site. It is obviously critical to ensure discretion during such a project, when the existing premises are high-precision laboratories.
25'000m2
dedicated to research
and laboratories
60
nursery places
on the 3rd floor of the CMU
100
dentists' offices
at the University Clinic of Dental Medicine (CUMD)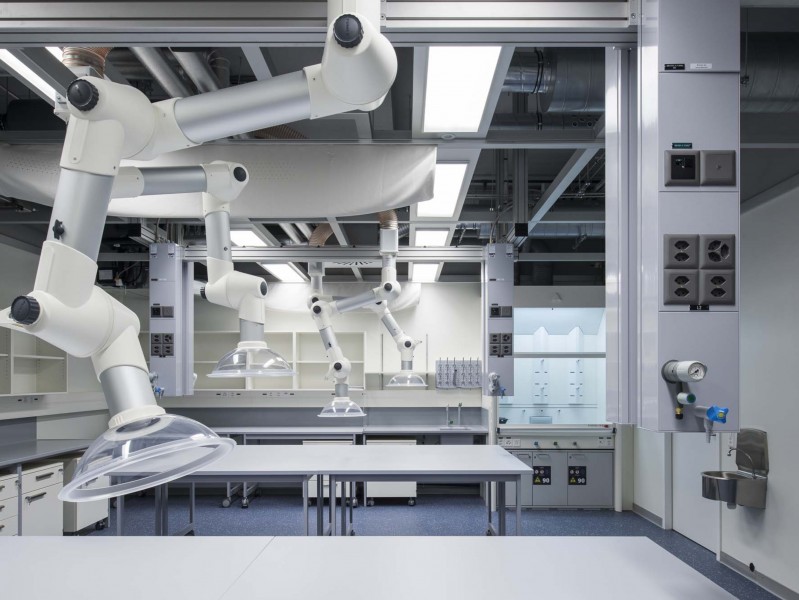 menu